From now until the New Year, Sparkle Daily will be guiding you through the process of buying jewelry as gifts for your loved ones. Our first post tackles the important question: what do they like?
Thinking of buying a ring, necklace, earrings, or bracelet for someone special this holiday season? Jewelry can make a great impact as a holiday gift – especially if you choose something they'll adore.
Figuring out someone's taste in jewelry can be tricky, but if you do your research you'll find it a lot easier to narrow down the available options. Read on to find out what's worked for us.
1.  Look at his or her existing jewelry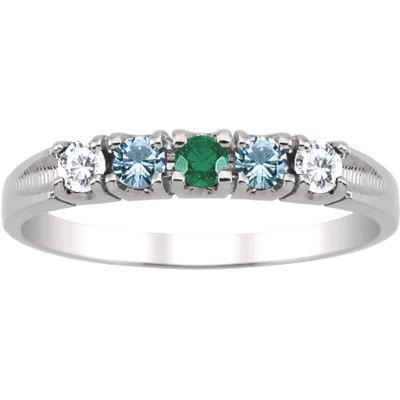 Classic Birthstone Ring, $79, Jewlr.com
This important step will help you narrow down the field a lot. Look at what kinds of jewelry they wear on a regular basis – and, just as importantly, look at what they don't wear. Does she wear attention-getting earrings every day – but leave her ring collection gathering dust? You may be better off getting her earrings. Your boyfriend might look great in a watch, but if he hates the things, look elsewhere. The key is to look for something that fits their wardrobe and personal taste.
2.  Ask people who know him or her
If you want to get a better sense of what the person you're buying for wants in a piece of jewelry, ask their friends. Inquire as to whether they've mentioned their taste in jewelry, or, better yet, ask someone in the know to look at jewelry with you before you choose, either in a shop window or in an online catalogue. Don't be afraid to ask for details: What colours does he or she like? Does he or she like silver, or gold? Dramatic, or classic? The more information you get, the easier it will be to make a decision.
3.  Ask him or her indirectly
Find out from the horse's mouth by asking the person you're buying for what they think of someone else's jewelry. Saying "what do you think of her necklace" is a little obvious, though, so be more oblique. You commenting on someone else's choice (i.e., "Maddy had a great necklace on tonight")  will probably get a more honest answer – and honesty is what you want.
4.  Think about his or her interests
Engravable Bracelet, $799, Jewlr.com
The best clue to someone's taste is the way they live their life. Look at their hobbies, their taste in clothes, or the way they decorate their apartment, and try to think about how these things would translate to jewelry. Is she romantic? A heart pendant might work. Does he love poetry and writing? Think about an engraved watch band. Someone who is interested in astrology or already has birthstone jewelry might appreciate a piece featuring their birthstone.
The more personal touches you can think of, the better – they'll let your gift's recipient know that you recognize and appreciate their individuality.
Liked this post? Stay tuned for part 2 in our gift guide series: Choosing a Jeweller.