Get the most for your money. Part 2.
You've read part 1 and already know what you're looking for. But where should you go to get it? The following tips will help you identify good jewelers and avoid markups and scams.
You can usually tell an honest jeweler by the following:
1.  Quality appearance
Do their pieces look solid, well-designed, and are the stones nicely set? A good piece of jewelry should never have a cheap or flimsy appearance. Just because a salesman says it's high quality, doesn't mean it is!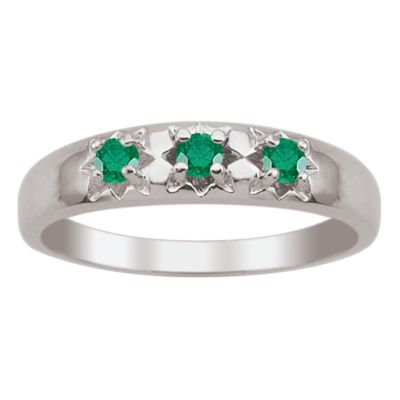 Elongated Emerald Birthstone Ring, $118, Jewlr.com
2.  Clear and fair return policy
Is their return policy clearly stated and not full of suspicious fine print? Reputable jewelers are secure enough in the quality of their merchandise that they can offer a solid return policy, such as full cash refunds within 30 days. Beware especially of retailers that only offer store credit – or no type of refund at all.
3.  No smoke and mirrors
All too often, substandard jewelry will come in fancy packaging. A beautiful box or presentation can often be a sign that the jewelry is less than high in quality. If presentation matters a lot to you, remember that you can always buy a quality piece of jewelry and package it yourself.
4.  Local manufacturing
Many jewelry items are cheap because they are manufactured in sweatshops in Third World countries. A jeweler with integrity uses local manufacturers while still keeping prices low. Be sure to inquire about the place of manufacture before you buy anything – the recipient of your gift will likely be as impressed by your ethics as they are by your taste in jewelry.
Enjoyed this post? Stay tuned for next week's part 3: Precious Metals.